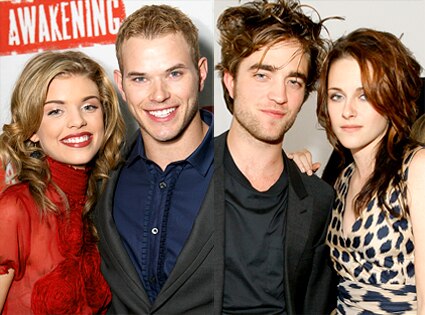 Thanks to
E! Online
we now have the truth behind all this rumors flying all around!
First up, is AnnaLynne McCord having dumper's remorse? Kellan Lutz recently flew down to Las Vegas to spend the weekend with Miss McCord, sparking rumors that the on-off couple is back on.

"He has been really trying hard to win her back," says a close friend of the kinda-couple. "He's been stepping it up."

After making a major dating faux pas by neglecting to get AnnaLynne a B-day gift, Kellan tried to make it up to her by sending chocolate-covered strawberries and sparkling cider to her New York hotel room a few weeks ago.

So is AnnaLynne falling back into his ripped arms?

"She's a little hesitant but very flattered by how hard he is working to win her back," dishes our source. "They're young and seem to be crazy about each other, but it's hard to keep a relationship in Hollywood. I'm not sure if they are officially back together, but he is definitely trying."

Good thing she didn't settle for less with that Kellan clone last week. The real deal is so much better.

Now onto Robert Pattinson and Kristen Stewart…is K.Stew prepping to be Mrs. R.Pattz?

OK! magazine is reporting (that should be a clue right there) that Rob recently popped the question to Kristen and that the two are now engaged.

Uh, so sorry but this is way premature folks. Our insiders tell us Rob has not put a ring on it. In fact, Deep Twi insists no one over there is even paying attention to the latest goss, totally laughing off our attempt to even pry about such a thing. But had to make sure, ya?

About the only thing OK! got right in their article was that Robsten is having hotel room sleepovers (we already told ya that) and that Summit still has a watchful eye on the two, which was half-reported correctly. Jeez, wonder where OK! is getting some of their intel from...This sounds eerily familiar doesn't it?

"Twilight's producers have told Robsten to keep their love on the downlow—at least until after the November release of New Moon…in which Bella gets involved with hunky werewolf Jacob Black, played by Taylor Lautner," says the rag-mag. "It's all about suspension of disbelief. The studio bosses fear that if a romance between Rob and Kristen is confirmed…Twilight fans won't buy into the screen chemistry between Taylor and Kris."

A little late to the Robsten party, OK! Everyone sees past the blatant Kristen-Taylor pairing, and no one is buying it.

Oh, and we can assure you that Rob and Kristen won't be going public with dating confirmations after New Moon. No, the private couple will always be just that—which is why Summit is playing along, for now.